| | | |
| --- | --- | --- |
| | Saatchi Gallery | |

Linkism Art Galleries - "Saatchi Gallery" - London Art Gallery, United Kingdom of Great Britain


"Saatchi Gallery" is listed in the "British Art Galleries" section of the Linkism Art Directory.

---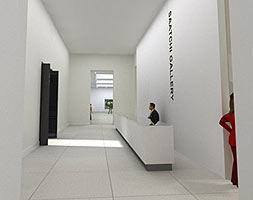 The Saatchi Gallery is located in the Duke of York's Headquarters, in Sloane Square exhibits contemporary
art, with very large well-proportioned rooms and high ceilings. The Gallery will occupies the entire 70,000 sq ft
building giving the gallery scope for a book shop, educational facilities and a café or bar. It is ideally located in
a central London location on Kings Road, Chelsea. The man behond Saatchi Gallery is the advertising and
marketing man that founded Saatchi & Saatchi, Charles Saatchi. He was a key supporter of the
YBA (young British Artists) like Damien Hirst and Tracey Emin.


Selected Artists and Painters Represented

Peter Doig

Marlene Dumas

Jörg Immendorff

Martin Kippenberger

Luc Tuymans
Paula Rego

David Salle

Martin Maloney

Tracey Emin

Jenny Saville

Duane Hanson

Franz Ackermann

Cecily Brown

Albert Oehlen

Matthias Weischer
Elizabeth Neal

Tim Stoner

Robert Melee

Tom Hunter

Eva Struble

Saskia Olde Wolbers

Alisa Margolis


Saatchi Gallery - Art Gallery Contact Details

London Art Gallery
Duke of York's Headquarters
Kings Road
Chelsea, London
United Kingdom of Great Britain

T +
F +
web: http://www.saatchi-gallery.co.uk/


Related Categories to the British Art Galleries section could also include..
Opus Art Gallery
Gagosian Gallery
UK Art Museums
UK Artists
Famous UK Artists


::: Art Directory> Art Galleries> International> Art Galleries in the United Kingdom> Saatchi Gallery in London, England, UK



London Art Gallery - Saatchi Gallery

Linkism Directory - Fine Art Gallery Profiles
Fine Art Galleries : A | B | C | D | E | F | G | H | I | J | K | L | M | N | O | P | Q | R | S | T | U | V | W | X | Y | Z | All Art Galleries
Contact - About Us - Webmasters - Add URL - Link to us
Copyright © Linkism Art Online - Art Gallery Profiles Online